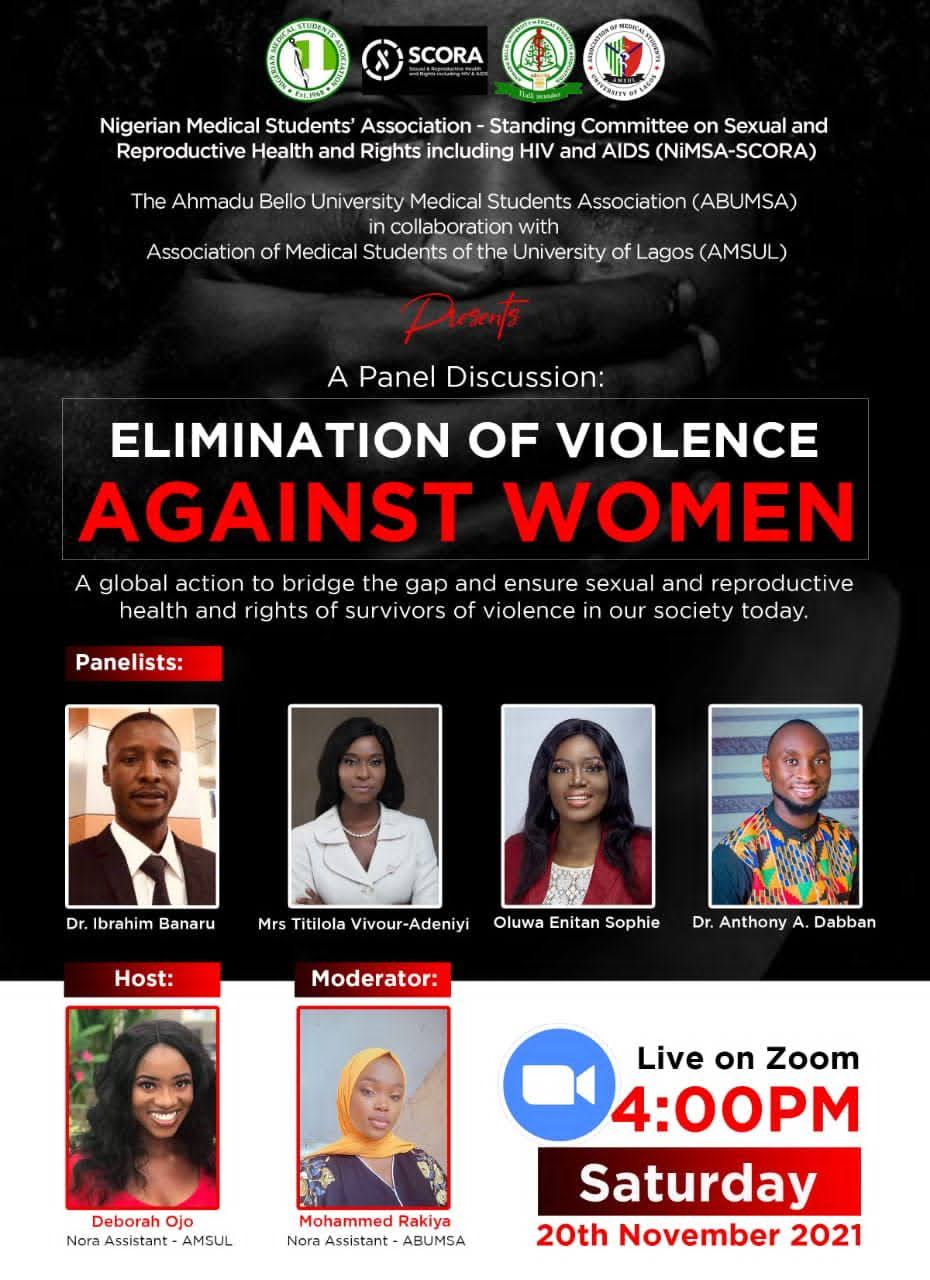 On 20th November 2021, as part of our count down to The United Nations 16 Days of Activism against Gender-based Violence which happens from 25 November to 10 December with the 2021 theme set by the UN Secretary-General's UNiTE campaign: Orange the World: End Violence against Women Now. On the invitation of the SCORA-ABUMSA × SCORA-AMSUL; The Nigerian Medical Students' Association- Standing Committee on Sexual and Reproductive Health and Rights including HIV and AIDS (NiMSA-SCORA),The Ahmad's Bello University Medical Students Association (ABUMSA) in collaboration with the Association of Medical Students of the University of Lagos (AMSUL). NESII was represented on a panel discussion session on 'THE ELIMINATION OF VIOLENCE AGAINST WOMEN: A global action in bridging the gap and ensure sexual and reproductive health and rights of survivors of violence in our society'.
The Chief Program Officer, Ms. Oluwa, Enitan Sophie alongside Mrs. Titilola Vivour-Adeniyi, Dr Ibrahim Banaru and Dr Anthony Adam Dabban were members of the panel.
From her end, highlighted the:- indicators of violence, Remedies our society have and can put in place to support women who have been subjected to one form of violence or the other, The roles of Not-for-Profit organizations such as Natineee Empowerment for Sustainable Impact Initiative (NESII) on the quest to achieve the elimination of violence against women? More importantly, from her experience an advocate for adolescent reproductive health and gender rights, how violence against women affect the growth and development of an adolescent mentally, physically and psychologically.
Natineee Empowerment for Sustainable Impact Initiative (NESII) was selected for a Research Capacity Building Workshop for Disability-Based CSOs – Civil Society Organization organized by Africa Polling Initiative and sponsored by ford foundation.  Two members of the team attended this Training; November 23 & 24 2021 saw us interacting with representatives of other not-for-profit Organizations (NGOs) in the Civil Society Organization space.  We spent the two days learning the rudiment of research, data processing, and analysis, infographic, report writing, communication, dissemination of research findings and more importantly, how to develop a disability inclusive proposal.